manduca XT Organic Cotton Baby & Toddler Carrier BellyButton Boho Brown (Washed)
Special Price
S$120.00
Regular Price
S$269.90
You Save 56% (S$149.90)
SKU
MDC-XTBB-BOHOBN-AI006
Currently, looking at this product
Brand New set returned from customer who experienced a color bleed. It was determined later that it came from clothes that bled onto carrier in the same wash and nothing to do with the carrier colors. Set was washed and restored as shown in 1st 3 images. Carrier was washed with 100% plant-based bio detergent and never used.
All As-Is Items sales are FINAL - no exchanges or refunds. All conditions as described. Not eligible for further discounts.
Limited Edition Soft Structured Baby Carrier
Newborn 3.5kg to Pre-schoolers 5 years old
Front Carry, Back Carry & Hip Carry
Organic Cotton
The Manduca XT Baby & Toddler Carrier BellyButton BohoBrown is an super adaptive carrier that is design to cater to newborns from 3.5kg onwards to toddlers & pre-schoolers up to 20kg. The carrier panel can be sized down for small babies and size up as easily to cater to toddlers up to 4 and even 5 years old. It is also design to fit petite as well as large parents.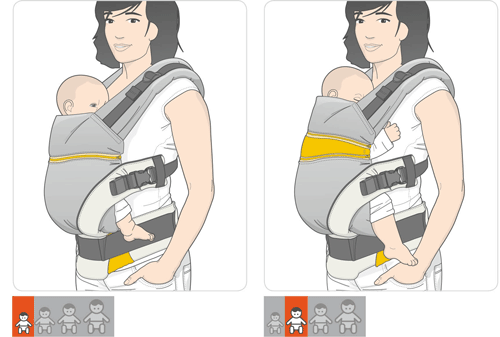 Babywearers are also spoiled for options with the Manduca XT Baby Carrier allowing for front carry, back carry, side/hip carry plus the additional flexibility to cross the shoulder straps for additional comfort. The patented extensible body panel that allows the Manduca to be used with taller pre-schoolers has now been complemented in the Manduca XT with a new patent pending sizable seat size mechanism. The Manduca Baby Carrier continues to be one of the most versatile infant-baby-toddler all rounder ergonomic carrier in the market today.
| | | |
| --- | --- | --- |
| Front Carry | Hip Carry | Back Carry |
Highlights
Sizable to fit newborn 3.5kg up to pre-schoolers 4-5years old
Fabrics made of 100% certified organic cotton
Made in Europe
Features
M-Position® to support optimal hip, pelvis & spine development for babies
Patented carrier panel extension system to cater to babies at different stages of their growth
Integrated infant seat (with optional size-it infant system)
Can be used for front hug carry, hip carry & back carry positions
Ergonomic hip belt with 3-point safety buckle for peace of mind
Adaptive design fits large as well as petite size parents
Can be used for children 3.5 to 20kgs (4-5years old)
Meets the CEN/TR 16512:2015 standard
More Information
Carrier Net Weight
about 710g
Carrier Positions
Front Hug Carry, Low Back Carry, Hip/Side Carry
Recommended Child Size Limits
From about 3.5kg to average size 5 years old
Recommended Wearer Size Limits
waist or hip size from about 71cm to 140cm
Manufacturer Weight Limit
3.5 to 20kg
Manufacturer Age Limit
Not specified
Carrier Special Features
Newborn Support Native, Petite Wearers, Plus Size Wearers, Plus Size Babies
Material
100% organic cotton tested for pollutants. Quality foam padding by ZoteFoams. Nickel-free zips and press-studs by YKK. Safety buckles & fastenings by Duraflex.
Included in box

manduca XT Organic Cotton Carrier BellyButton BohoBrown
Ellipse ZipIn accessory
Instruction Manual